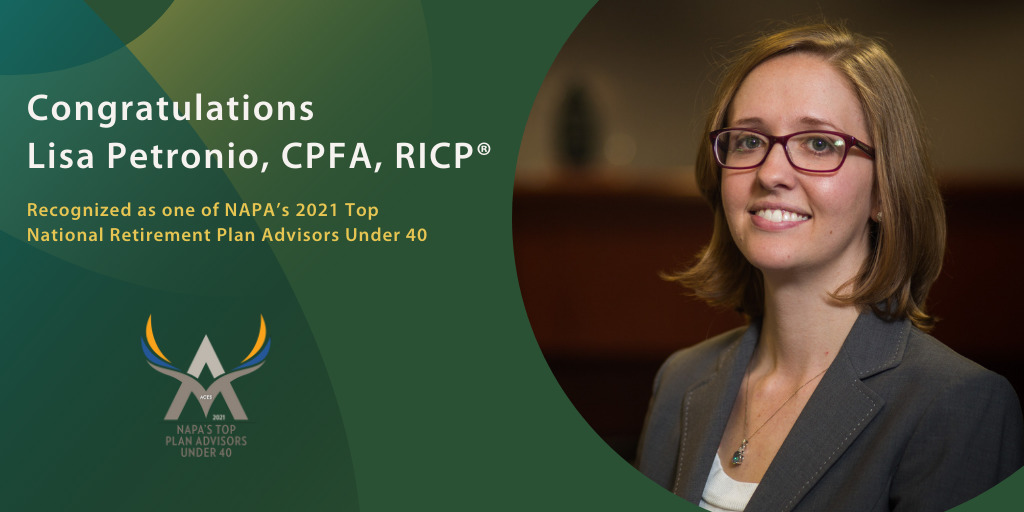 Lisa Petronio, CPFA, RICP® – Vice President, Retirement Plan Solutions at Walsh Duffield was selected as one of NAPA's 2021 Top National Retirement Plan Advisors Under 40.
The 2021 NAPA's Top 100 Young Retirement Plan Advisors, aka "Aces" award list is drawn from nominations (nearly 700 this year) provided by NAPA Broker-Dealer/RIA Firm Partners and vetted by a blue-ribbon panel of senior advisor industry experts based on a combination of quantitative and qualitative data submitted by the nominees, as well as a broker-check review.
Out of 700 nominations, 100 were ultimately selected.
No fee is charged to participate. The award is not indicative of the advisors' future performance.
Walsh Duffield and Strategic Retirement Partners
Petronio is the Managing Director for Upstate NY at Strategic Retirement Partners (SRP). Walsh Duffield Retirement Plan Solutions represents SRP in the Upstate New York Region.  SRP is a national retirement plan consulting practice with over 700 employers and over $14 billion in assets under advisement as of 12/31/2020.  Walsh Duffield's relationship with SRP allows the team to deliver the resources you expect from a national firm with the local service you deserve.
Petronio is responsible for growing the retirement book of business at Walsh Duffield as well as the Upstate NY region of Strategic Retirement Partners.  She manages a small team of plan consultants and operational staff that support the plans in our region.  Additionally, she is responsible for business development and client-facing service activities.  Petronio has been actively involved with workplace retirement plans (401k, 403b, etc.) for over 10 years and currently focuses on DB and ESOP plan consulting.  
In addition to being selected as one of NAPA's 2021 Top National Retirement Plan Advisors Under 40, Petronio was also recently named to the 2020 NAPA Top Women Advisors List.  This list recognizes the contributions of a growing number of women who are making significant contributions to the retirement industry, as well as bringing excellence to the profession. 
Out of more than 550 nominees, 115 were selected. 
No fee is charged to participate. The award is not indicative of the advisors' future performance. 
Being active in the community is an important pillar to Petronio's success. Within the industry, she has served on the NAPA Fly-in advisory committee for the last two years.  She has also spent time representing plans and participants in Washington D.C. Within Western New York,  Petronio serves as Vice Chair for Goodwill of WNY, where she is leading the board's DEI Initiatives and revising governance documents. She has also been an active volunteer with Child & Family Services, Junior League of Buffalo, Big Brothers Big Sisters, and the National Academy of Finance – Hamburg.  
Career Advice from a Nationally Recognized Retirement Plan Advisor
Petronio prides herself on being an advocate for plan participants with a goal of making their decision to retire easier from a financial standpoint.  She pulls from personal experiences and focuses on education and making sure "auto-features" don't take control when it comes to personal finances.  
When asked what career advice she had for others, Petronio said "Find alignment with your core values and current priorities.  Life is about making room for the things that are most important to you.  Sometimes that means saying no to one opportunity so there is room for something that is better aligned.  Apply this to client relationships, family obligations, community commitments, etc.  If a client isn't aligned on the same values then it's time for both parties to move along.  You have to be aligning your time and efforts with those activities that are truly most important.  That's the only path to true fulfillment."  
Congratulations to Lisa Petronio on this well-deserved achievement!